07-24-2015, 11:05 AM (This post was last modified: 07-28-2015, 08:55 AM by JoeStrout. Edit Reason: fixed typo )
When we finally get serious about moving into space, we know with certainty that it will have these two features:
Habitats (and often ships) will spin to produce artificial gravity.  How

much

gravity they will produce, we don't know, because we don't have any data on the long-term effects of living between 0 and 1 G.  But we know 0 G is bad (and 1 G is good), so we know they'll spin to produce

some

amount of gravity.
Ships (and maybe habitats) will be nuclear-powered.  That's because accelerating masses in space takes a lot of energy, and the more mass you have, the more energy is required.  So we need something that has a lot of energy for little mass.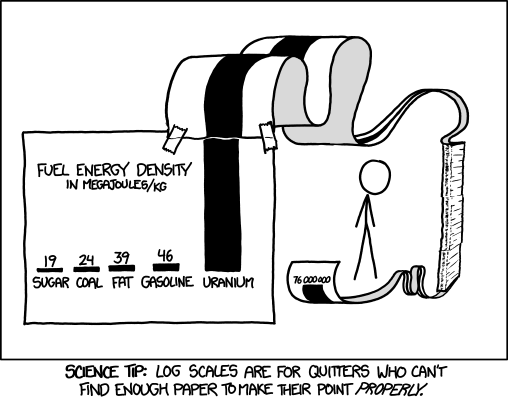 This cartoon doesn't depict rocket fuel, but its energy density is roughly the same as gasoline.  Uranium is over a million (!) times better.  So this makes it pretty obvious why spacecraft in the future will be nuclear-powered.  (Fusion would be great if we can manage it, but fission will do fine.)
So, given that this is where we're headed, it's frustrating that we've spent five decades going around in space not advancing either of these core technologies.  They're not that hard; the Russians have sent dozens of nuclear reactors into space, including a 10-kW reactor called
TOPAZ-II
.  I bet we could do better; our nuclear-powered Navy is the best in the world.
And as for artificial gravity, seriously, just spin the thing.  And collect the data today that we need to plan spacecraft and space colonies of tomorrow.
50 years from now, we will look back at the late 20th and early 21st centuries from our spinning, nuclear-powered spacecraft with astonishment.  How could those people have wasted so much time, when the path forward was so clear?
---
Joe Strout
Lead Developer, High Frontier